Club Europa has raised the bar. We are the longest running on-premise club in New England and have introduced an entirely new upscale house party atmosphere. Recently voted the #1 club in New England!

Sorry folks:

The weather forecast predicts that Mother Nature will hit us with a nasty winter storm tomorrow (Saturday). As a result we have decided to pull the plug on Saturday night's Garters party, for everyone's safety.

We look forward to seeing everyone next weekend for our special Naughty Football Shirt Super Bowl Party.

We have a super hot calendar of events lined up for February. Please check our web site and come join the fun!

A Club Europa Exclusive

Saturday: Jan. 24th

Garters, Stockings & Heels Party!

These parties have been a huge hit! Come wearing your
hottest garters, heels and/or stockings
and drive the men wild.

This is a perfect night for the women to wear their
favorite sexy attire. You know you have it
so take advantage of the opportunity
to show it off along with your
seductive personality.

Open and private rooms available.
Couples: $50
Single Ladies: $25
Single guys: $80
Party starts at
Saturday: Jan. 31st

Club Europa's

Super Bowl Top or No Top Night

Come kickoff the Sunday's Super Bowl weekend by
wearing your favorite team jersey. Ladies you decide
what to wear on this cold winter night. Surprise
the guys with your tiniest, sexiest, hottest top!
Be sure to check out our heated patio.

Also come tease the guys on the dance floor.
Team jersey or no jersey, you decide.

This is the perfect party theme for newbies.
Come relax and see all the no pressure fun.
Sexy new couples joining every week.


Open and private rooms available.
Couples: $50
Single Ladies: $25
Single guys: $80
Party starts at
A Club Europa Favorite!

Date: February 7th

Naughty Kitty Night!

The name says it all:
Ladies, dress for the theme and come play in
our jungle as you show off your wild side!

Cat suits optional but your Naughty Kitty
attitude is a must! Make up your own rules
as we go. Don't miss this exotic night!

RSVP before we fill up!
Couples: $50, unicorns: $25
Single guys: $80
Open and private spaces available.
The fun starts at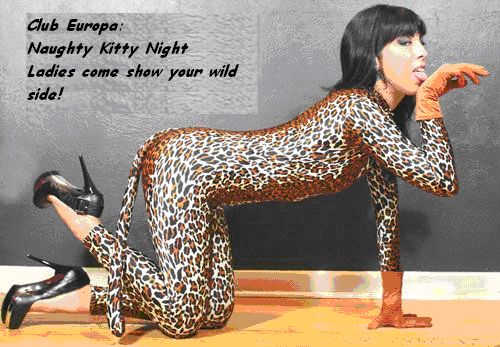 Saturday: February 14th

Club Europa's

Lady's Valentine Choice Party

Get ready for Valentine's Day with Lady's Choice
fun. All of your favorite studs are coming to
shower you with attention on this cold winter eve!
What kind of attention you ask?
You know… :)

Perfect for the gals who enjoy showing off
outside on the heated deck. Create your own fun
or just come hang out, dance, talk and relax with
like minded friends.


Open and private rooms available.
Couples: $50
Single Ladies: $25
Single guys: $80
Party starts at

Welcome to Club Europa, New Hampshire's premier hot spot. We are fully licensed and offer a safe, discrete, and comfortable environment which is a perfect setting for first time & seasoned Lifestyle folks to socialize and enjoy new friends.

Club Europa was started many years ago. At the time, there was a shortage of high quality Lifestyle parties in New England. Several people thought that we would make great hosts. We seriously considered it and then decided to give it a go. The response has been incredible and we haven't looked back since.

Our goal was to raise our Lifestyle house parties to a new level by creating a comfortable, classy, discrete and safe place to meet & mingle with Lifestyle friends. Club Europa is a private membership club exclusively for adventurous couples & singles. Our members enjoy the erotic theme & no-theme parties.

Last minute schedule changes and announcements:

January 31th: Super Bowl Top Party!




Come relax and enjoy...

Curious about the Lifestyle? Want to see what all the fun is about? Do you enjoy meeting sexy people like yourself? Like to dance, talk, eat, watch, or be watched? Our party has it all. Come see for yourself.
For info on how to attend, please send an email to, or call us at:

603-382-9539

Copyright © 2006 - 2015 Europa Dance. All Rights Reserved.